This is what I do...
And what I've been up to so far...
I've been writing chamber music recently: commissions include a clarinet quartet, a piece for small string orchestra and one for tarogato, strings and electronics. And when I get asked that awkward question: 'What sort of music do you write?' the current answer is that I like to make music that sounds as if it comes from somewhere — a lifelong engagement with traditional music tends to influence whatever I do. That 'somewhere' may also show up directly as field recordings; real-world sound manipulated and worked into the fabric of the piece. I've spent years playing music for dancing: contemporary, renaissance, English country dance - Playford in particular. Even sang for the Bolshoi Ballet... So, dance music is a major influence, and I enjoy music that engages head, heart and feet. It's great if you can get all three working: trying for that elusive mix of architectural elegance and visceral clout.
'Early' and electronic music (and indeed, early electronic music) have fascinated me for years, and leave their traces in what I write. On the page inviting you to listen... you'll find a selection of concert and theatre music, soundtracks, dance music, music for kids, and the occasional scurrilous lyric. Although just writing the dots has a refreshing purity to it — somebody else gets to make the noise so you get to hear a different interpretation from the one in your head — studio work can be a major part of the composition process: there's often as not a big, 'undottable' production/sound art component in what I do. Which brings us to:
Recording, Production, Sound Design
The music samples on the listen... page have been recorded by me - apart from Ema Haual and the Pyewackett tracks. These are all pieces which I've written or been closely involved with musically. But one of the great things about working on other people's stuff is the opportunity to learn about music you're not familiar with. I've recorded dozens of albums here in my house, otherwise known as Blue Bear Studio. It's tucked away in secluded Latham — Canberra's most sedate suburb and 1970s design showcase. (An old Valiant decays gently in the driveway, wisteria twines wisterically round the eaves.)
'Multi-instrumentalist and vocalist Jenny Gall's new CD Cantara has an incredible range of beautifully recorded instruments and natural sounds.'
That's Malcolm Fielding writing in Australian Hi-Fi. In his SingOut! review of Luminous, Mark D. Moss says:
'The excellent production is pure and clean, very reminiscent of Blake's production work on Andrew Cronshaw's award winning release Ochre. It is a joy just to listen to the sound of this recording, with each vocal and instrument cleanly presented with a "whole" sound ... open and clear.'
Blue Bear Studio offers a wide range of instruments, both traditional and electronic. Most of which I can play, or at least make a useful contribution on, with the exception of my trombone. These include saxes, clarinets, recorders, bass and keyboards, plus some more unusual items: fujara, border pipes, concertina, hot fountain pen, crumhorns, harps, zithers, cittern, bass harmonica, vintage synths and drum machines — some of which malfunction intriguingly. (I have a thoroughly feral Optigan and a roguish Moog.)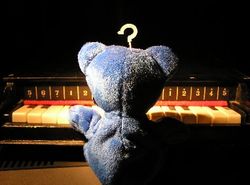 But most of the gear works with a comforting predictability: the studio is based around a combination of state of the art recording software and some quirky vintage sound design applications: plus a good selection of mics and outboard.
There are various acoustic spaces to play in: drums do well in the hallway, fiddles enjoy the kitchen, and singers, the lounge. My serious book habit has the useful side effect of providing acoustic treatment in the form of messy bookshelves. No need for those quadratic residue diffusers...
I do location work as well: handy for recording choirs and large ensembles. I'm happy doing 'classical' recording and editing, where score-reading ability may help. I offer a variety of one-stop corporate and media services: writing and recording soundtracks, audio logos and IDs, voiceover, jingles. I also do useful audio-wrangling jobs such as transferring vinyl, cassette and other older formats to CD or other current media, plus audio cleanup and restoration jobs. Do feel free to contact me to discuss your project. Among my clients: Eric Bogle, the ABC, and the House of Representatives...
Eric returned to do another CD here: I'm not certain if this was due to satisfaction or inertia, but it's always comforting when people come back for more.
…can range from Serious Art Stuff to lurking (with bass) at the back of the stage with Cassidy's Ceili: Canberra's favourite Irish thrash and ballad band. I've worked in many performance projects as a musician and actor: touring with bands, music theatre productions, concerts for kids, improvised music performances, multimedia events — all of which adds up either to a lack of focus or an admirably well-rounded portfolio career.
As a session musician I can contribute on a number of unusual instruments (see Recording...) and as voiceover talent. I'm working on a solo winds, voice and computer project bringing together traditional music, improvisation and electronic textures: should be up and running in 2015.
And moving swiftly to the third person, here's a brief
Ian Blake: composer, producer :: bass, woodwinds, keyboards.

Ian enjoys folk music, early music and electronica, and his own music often shows traces of all three: he has worked as a composer for theatre, film, chamber music, dance and public art projects, while his production and sound engineering skills have earned him a Gold Disc and an ARIA nomination.
Originally from London, Ian made his Covent Garden debut at the age of 13, but hasn't had a gig there since: however, his subsequent career has been varied and far-ranging... mainly in the folk and world music scene with, amongst others, Pyewackett, June Tabor, and the Mellstock Band; in venues from Alaska to Zanzibar. Since moving to Australia, Ian has toured extensively with Eric Bogle and produced two of Eric's CDs at his Canberra studio.
Ian has produced award-winning records for children, many for the ABC: his multi-instrumental abilities and arranging skills have contributed to some classics, notably with Mike Jackson.
He works in Europe regularly, mostly with long-time collaborator Andrew Cronshaw: projects include the 2002 Contemporary Music Network tour with On the Shoulders of the Great Bear, a show based on Finnish traditional music. The latest venture, SANS, includes Finnish singer Sanna Kurki-Suonio and Armenian duduk player Tigran Aleksanyan, and draws on the various traditions of the ensemble.
In 2005 he received an ACT Creative Arts Fellowship and is now pursuing a PhD in composition and sound art at the Australian National University. He was awarded the 2006 National Folk Fellowship which led to a live/electroacoustic piece based on material from the children's folklore collections at the National Library, performed at the 2007 National Folk Festival.
Recent and forthcoming work in concert music and multimedia includes: Eidola, for chamber choir and digital organ; The River Daughter, for solo voice, bassoon and electronics; One of Us, for the Quantum Leap production My Sister, My Brother; The Burning Thames, a sound installation at Canberra's M16 artspace; and soundscapes/musical direction for the show Fundamental Sound at the Griffith Conservatorium.
Blake plays bass with Cassidy's Ceili, Canberra's premier panCeltic party band, and sings bass with The Pocket Score Company, a full-range ensemble of Renaissance blokes. Just a low frequency kind of guy.